For every person hospitalized for mental illness, ten others need to be.
Why? That answer could take a book to fully elucidate.
Some of the reasons people aren't receiving the care they need…
Being shy in opening up to what they experience
Not being able to ask for help

Not knowing how
Cultural norms prohibit it
Not wanting to seem week

Believing that there's nothing wrong with them

Oftentimes, particularly in collectivist cultures, mental illness can be thought to be a personal defect, or, just laziness
Being so sick as to not have this insight

Arrogance

Not listening to one's loved ones
Oftentimes, very otherwise intelligent people are loathe to listen to others in this respect

Inability to trust others

Just as there are aspects about us that only we have access to, there are aspects of us that only others can fully understand
Conditions of hypo/mania and paranoia exacerbate this factor

Being told that's it's their fault, by friends and loved ones

Again, collectivist cultures are more likely to think of mental illness as a product of greed, gluttony, and laziness

What other reasons can you think of?
Let's go over some entirely inhumane effects of the stigma
Even in Western society, mental illness carries a large stigma. Depression, and even bipolar disorder, are slowly losing stigma. They don't equate psychosis with animalistic violence in movies as much these days. Yet, disorders with psychotic elements are still heavily stigmatized against.
An unbelievable amount of misconceptions about people with mental illness exist.
How did this come to be? Why do these things happen? How come so few people receive care?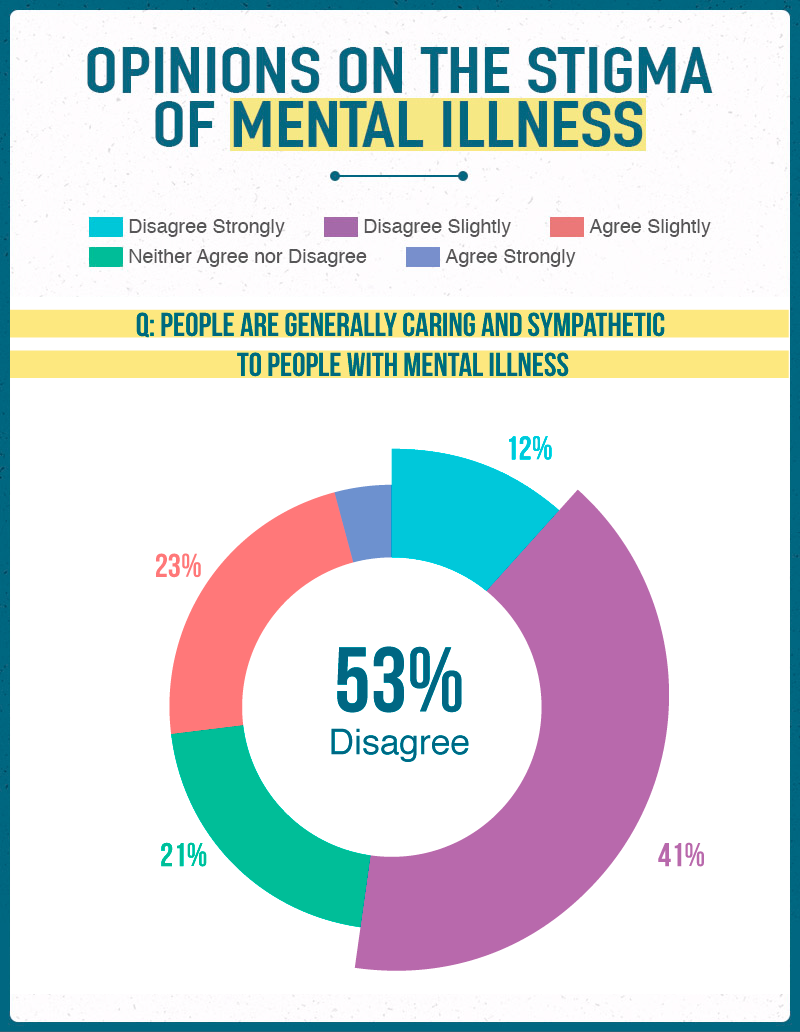 Why are we essentially treating a quarter of our population as evil?
It mostly comes down to two explanations.
1. Overall, society holds that people with mental illness are inferior
This can include ideas that its shameful, embarrassing, optional, a character defect, or non-existent. Even today, in countries that are considered enlightened, such as the United States and England, emotional disabilities are stigmatized. Primitive traits such as ignorance, elitism, and cruelty, drive this hate.
The National Alliance on Mental Illness compiled its own numbers:
It's all around us, despite our denial. And as we throw it under the rug, people with mental illness suffer immensely. Generally speaking, it's a taboo subject. Recently, we occasionally hear radio ads in support of those with depression, or even bipolar disorder, but say "schizophrenia" or a similar illness, and people either think:
Completely disconnected from the world and savagely violent
Or just completely disconnected from the world
We see these stereotypes in movies all the time. The schizophrenic is the sadistic bad guy, and/or totally gone. This depiction by the media is prejudice and patently immoral. It fuels perfect societal acceptance of (what have become) casual phrases such as "you're crazy" or "you've gone psycho".
I'm Jewish. Does that mean I'll take all your money? I have a Latino friend. Is he an illegal immigrant?
2. People don't have access to affordable healthcare 
In the past, college could be paid for by working part-time, it wasn't difficult to get a good job, and health insurance coverage was simple. Today, people come out of college with six figures of debt, minimum wage is about one third of what it should be, and there are whole jobs dedicated to dealing with insurance companies.
Our health industry is expensive, insufficient, and ridiculously complex. Other developed countries have a much superior healthcare industry.
And so many can't pay for needed medication, and those who can, oftentimes can only afford the less effective ones.
And, more specifically, we see below how the United States measures up on the cost of medicinal drugs, which are very important to control the symptoms of mental illness:
For recovery to even begin, help must be accessible. Many people suffer because they can't afford to treat their disease, and become addicted to drugs. It goes without saying that it doesn't have to be that way.
Modern America expresses norms and values that empower the few at the expense of the health of many. Please see the essay on Epicurean Culture Compared to Modern American Culture for a critique.
So we know that…
Many people don't get necessary treatment
A great percentage of prisoners have mental illness
95% of homicides are committed by people without a diagnosed mental illness
Society tends to turn its back on mental illness
Over a 25% of United States citizens suffer from mental illness
The United States has a horrible and difficult healthcare system
Sources: http://mic.com/articles/24564/only-38-of-americans-get-mental-health-care-when-they-need-it-and-for-one-simple-reason#.zpSUFOGat, Dr. Paul Povinelli, Dr. David E Bell, http://inequality.org/minimum-wage/, https://www.time-to-change.org.uk/news/global-meeting-anti-stigma-programme-london, https://www.mentalhelp.net/aware/the-stigma-of-mental-illness/