Warning: If you recently started taking an antidepressant and have noticed a significantly worsening mood, including thoughts of suicide, please immediately leave your computer and either get in touch with your doctor or the nearest hospital. Thank You.
Some claim that pharmaceutical antidepressants are perhaps only effective when depression is severe. For depression of a moderate or mild quality, Habits to Decrease Clinical Depression may suffice. It's better to not treat depression with drugs, if they're not completely necessary,
Generally, antidepressants take from two to six weeks to work fully. However, it could take up to 12 weeks. Initial benefits can manifest as early as a few days after starting treatment. If it doesn't work, no need to fret. There are over 20 antidepressants.
Excluding people who drop out of treatment, 60%-70% of patients taking antidepressants find that their life significantly improves. There are many classes of pharmaceutical antidepressants. The image below depicts how our body naturally releases, then captures back (reuptake), a few brain chemicals that are highly associated with depression (serotonin and norepinephrine).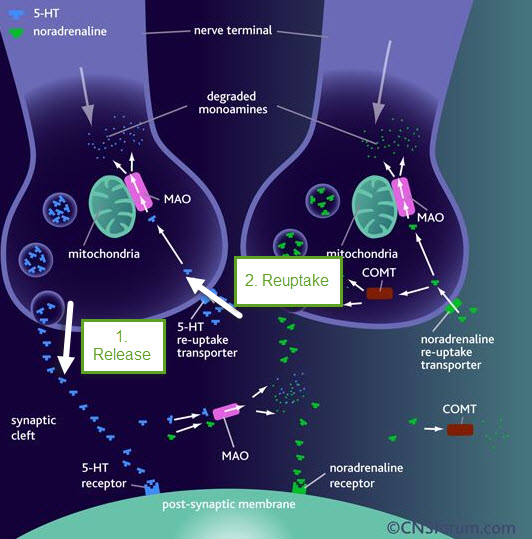 SSRIs (serotonin reuptake inhibitors)

These chemicals block serotonin from being funneled back into the presynpatic serotonin transporter (SERT)

When that is done, there is more serotonin in the synapse
More serotonin in the synapse means more serotonin binding to its receptor

Examples include Prozac (fluoxetine), Zoloft (sertraline), Paxil (paroxetine), and Celexa (citalopram)
Some, such as Prozac, may be uplifting
Paxil binds with greatest strength to SERT, which may be why many think it's the most useful SSRI for anxiety and panick
SSRIs are also used in the treatment of

Obsessive-compulsive disorder
General anxiety disorder
Social anxiety disorder
Panic disorder
Post-traumatic stress disorder
Bulimia
Premature ejaculation
Headaches
Premestrual dysphoric disorder
SNRIs (serotonin-norepinephrine reuptake inhibitors)

SNRIs block serotonin and also norepinephrine from being removed by the reuptake pump

Same as SSRIS, more of these chemicals in the synapse means greater overall binding to their receptors

There are three SNRIs: Effexor (venlafaxine), Pristiq (desvenlafaxine), and Cymbalta (duloxetine)
Also used for

General anxiety disorder
Panic disorder
Social phobia
Various forms of physical pain
ADHD
the NDRI (norepinephrine-dopamine reuptake inhibitor) Wellbutrin/Zyban

Instead of acting on serotonin, inhibits reuptake of norepinephrine and dopamine
Not as associated with sexual malfunction as the SNRIs and SSRIs
Dopaminergic activity is weak, almost insignificant at doses at and below 200mg
For depression, extended release doses ranging from 100mg to (rarely) 600mg

Usually between 300mg and 450mg

Used also for

ADHD
Smoking cessation

Blocks a part of the nicotine receptor
25mg instant release Zyban pills

Bipolar depression

Lower chance of causing mania than the SSRIs and SNRIs
Tricyclics (also known as Heterocyclics)

Alters the binding of various chemicals to their receptors 

Serotonin-norepinephrine reuptake inhibition

Some, such as Elavil, work more on serotonin than on norepinephrine
Others, like Pamelor, have noradrenergic (norepinephric) activity that overshadows their serotonergic activity

Histamine (H1) receptor blockers
Adrenergic receptor blockers
Muscarinic receptor blockers

Also used for

Anxiety
Insomnia
Headaches
Obsessive-compulsive disorder
Panic disorder
Some forms of physical pain

May produce more side effects than newer antidepressants
More dangerous than other antidepressants
Here we have a chart detailing how tricyclics and conventional SNRIs meet, and the effects of the additional receptor systems that tricyclics affect.
This depiction shows (very roughly) how things might actually look like
Atypical antidepressants

Viibryd

SSRI
Also works similarly to Buspar, the anti-anxiety medication

5-HT1a partial agonist
5-HT is synonymous to serotonin

Remeron (mirtazepine)

Non-addictive use as a sleep aid
SNRI
increases appetite
Blocks some serotonin sites to reduce anxiety, sexual dysfunction, and stimulate appetite
Works faster than other antidepressants
Low risk of sexual dysfunction

 

Oleptro (trazadone)

non-addictive use as sleep aid
SSRI
Activates some serotonin sites
Prevents activation at some serotonin sites
Has a metabolite that may be responsible for many therapeutic effects

 MAOIs (monoamine oxidase inhibitors)

Monoamine neurotransmitters are serotonin, dopamine, norepinephrine (and the metabolite of norepinephrine: epinephrine)
Two kinds of monoamine oxidase: monoamine oxidase A and monoamine oxidase B

MAO-A increases serotonin, dopamine, and epinephrine levels
MAO-B increases dopamine, norepinephrine, and trace amine levels
Must have MAO-A inhibition for antidepressant effect

Parnate, Nardil, and Emsam
A strict diet must be adhered to, otherwise one may have a hypertensive crisis and a stroke
Most useful in atypical forms of depression
Also treat anxiety disorders
Parnate

Especially useful for psychotic depression
Stimulating
Has more MAOI on the B form, than on the A form

Nardil

Also raises GABA levels, which makes it especially useful for anxiety
May be sedating
Has more MAOI on the A form, than on the B form

EMSAM

Old parkinson's medication, selegiline, in patch form (transdermal)
No need to follow diet very strictly at 6mg patch, but must at 9mg and 12mg form
Stimulating, though less effective than parnate
May be an anti-aging agent for the brain
Fewer side effects than the tricyclics

This class is very effective
Must not use many other medications while on them, such as cold medicine. Please consult the chart below for dangerous drug interactions with antidepressants. It's not worth your life!
Treatment-resistant depression is diagnosed when one has failed to respond to at least two other antidepressants, spending six to 12 weeks on each at the maximum dose that is tolerable
There are FDA-approved therapies for such, as add-on medications…
Abilify (aripiprazole)

Also used for schizophrenia and bipolar disorder, but at much higher doses
D2 partial agonist, keeping dopamine levels within a range
Also a 5-HT1a partial agonist, working as an anxiolyitc (anti-anxiety agent)
Usually stimulating at doses for depression
Mood-stabilizing traits

Seroquel (quetiapine)

Also used for schizophrenia, but more so for bipolar disorder
Can be very sedating

Symbyax

A combination of two medications, olanzapine and fluoxetine
Antidepressant and tranquilizing effects

Deplin

a form of vitamin B
produces red blood cells
termed a "medical food"
Other common, though not FDA-approved, methods of medicating treatment-resistant depression exist
Electroconvulsive therapy

Usually six to 12 treatments
Much more safe these days

Transcranial magnetic stimulation
Ketamine infusion therapy

Illegally used for recreational purposes
Not used at doses that could cause hallucinations
NMDA antagonist and AMPA receptor modulator

Lithium

The "gold standard" for treating bipolar disorder
Has a variety of actions, such as increasing tryptophan (the precursor to serotonin) synthesis

Lamictal

Also used for bipolar disorder
Has ra reputation for working more on depression than mania
Usually has no side effects

Buspar

A 5-HT1a partial agonist
Non-addictive agent used for anxiety

Tegretol

Also used an an anticonvulsant (stops seizures)

Cytomel

used for an underactive thyroid

A MAOI plus another antidepressant

Must be extremely careful, monitoring for serotonin syndrome and hypertensive crisis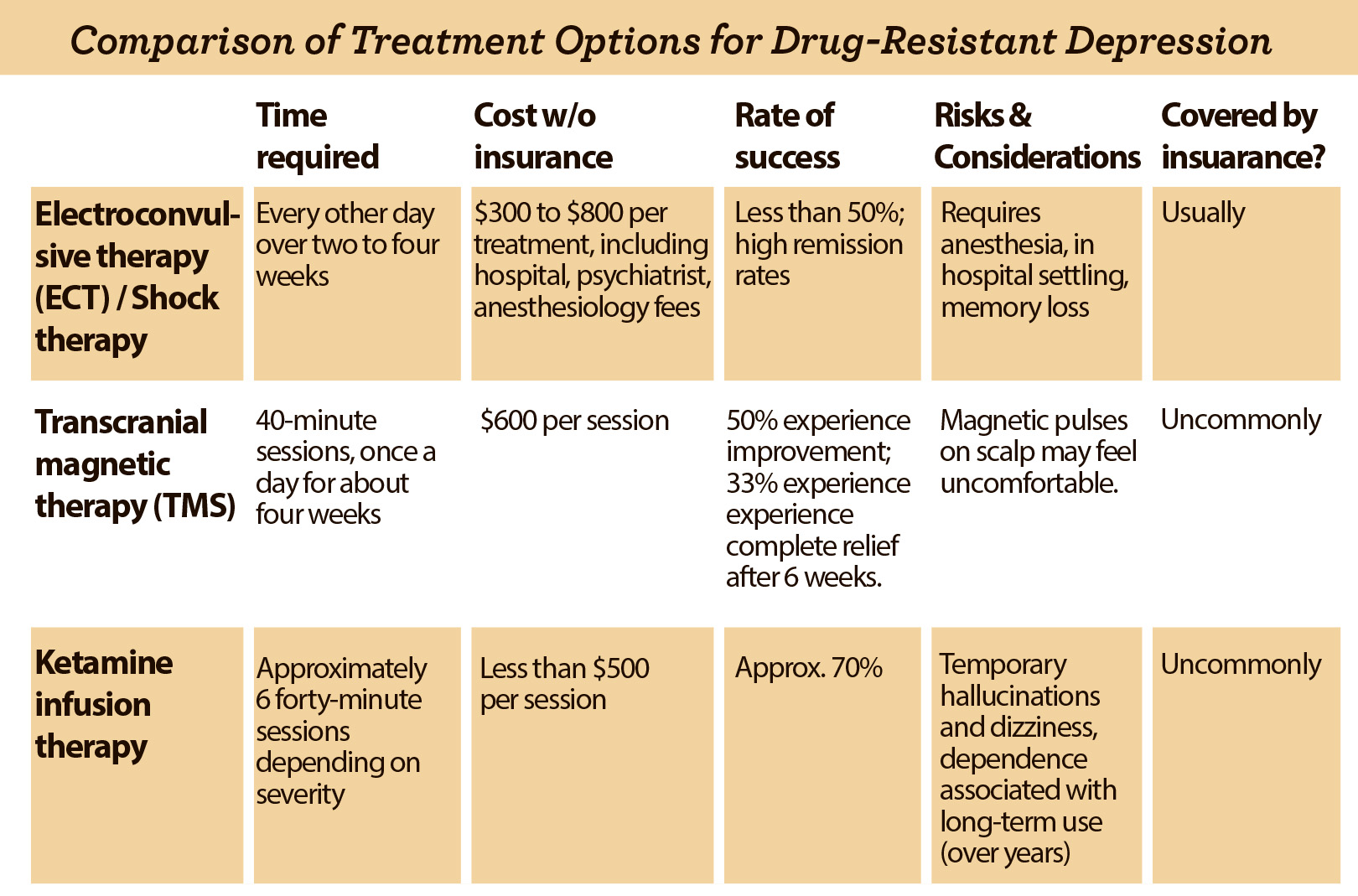 If everything else has failed after complete treatment adherence (including therapy and drug abstinence), some psychiatrists may try the following augmentations (combining an antidepressant with another medication). They all work fast, but also have the potential to be very addictive.
Benzodiazepines

Short-term
Very difficult to stop using if treatment exceeds a month

Notoriously long and painful withdrawal syndrome, see PAWS

Stimulants

Occasionally useful for lethargic depression
particularly useful in older patients
Also used for ADHD, weight loss, and narcolepsy
Can maybe be added to MAOI treatment with extreme caution by an expert
Methylphenidate, the norepinephrine-dopamine reuptake inhibitor (NDRI)
Amphetamine, the norepinephrine-dopamine releaser, reuptake inhibitor, and (at high doses) monoamine oxidase inhibitor (NDRA, NDRI, and MAOI)
Modafinil and Armodafinil, various actions, weak norepinephrine-dopamine reuptake inhibitor (NDRI)

Addiction and negative side effects less probable than that of other stimulants

Opioids

The absolute last line of defense before surgery

Very high abuse potential

Also useful for opiate addiction, anxiety, and insomnia
 Suboxone, the partial agonist at opiate receptors
Ultram, which also has direct effects on serotonin and norepinephrine