Feel free to skip the next few paragraphs and head right to the reviews.
My Movie Background
I'd never been much of a "movie guy". That was one of my dear friends. Back in high school, I would smoke, then we would watch movies. But it was one movie a week maximum, nothing that would earn me the label of amateur critic.
Several years later, one October day, it began. This was about halfway through my first semester at the University of Rochester. I'd already completed what felt like a full semester at Tompkins-Cortland Community College, which I graduated from that past May. How did I cope? I started revisiting one of my favorite childhood cartoons: Courage the Cowardly Dog. I'd watch a few 15-minute episodes a night, not much. Then, I branched out to Looney Tunes (I was specially inclined to Daffy Duck). About a month later, I found myself watching a full, feature-length movie per night. Then, it took off!
Since that first movie, I've watched hundreds, about two per night. Below are the movies that I found very insightful. There are a few minor spoilers.
Reviews
Letters from Iwo Jima (2h, 21m)

This movie follows Japanese soldiers defending Iwo Jima in World War II. The perverse tactics of the Japanese nation contrasted with the humanity of many Japanese troops. We tend to view not just Japan, but all of Japan's soldiers during WWII, as evil. Even the most superior man in charge of the Iwo Jima defense, didn't fit this profile.
However, in the face of utter annihilation, many of Japan's troops were very loyal. They did what they were told to protect their people. The setting they were placed in demanded perverse crimes.
 Similar to how Americans viewed all Japanese citizenry in the early 1940's, people with a psychotic mental illness are caught up in a culture that assumes them to be violent, inhuman, and otherwise very dangerous. In reality, they are more scared of you, than you of them.
Additionally, Letters from Iwo Jima makes a point of relating how cruel the Allied soldiers could be. Even if someone is part of a group, club, or organization that has a good reputation, individuals in that organization might be evil. Not every person without a mental illness is good. In other terms, even the "just", commit unjust acts.
One scene follows a Japanese soldier venturing out of the mountain encampment to dispose of urine and feces. When he steps outside, as far as the eye could see, there were warships. He did his best to swiftly return. This was an intelligent, impressionable, friendly, even charming, young man. The scene revealed that he knew victory to be impossible, yet he continued to follow orders. Letters from Iwo Jima is about being caught in the wrong place at the wrong time, and the sure death that follows. As are many people with mental illness, Japanese people were labeled subhuman because of the actions of a few Japanese leaders.
Silver Linings Playbook (2h, 2m)

This movie well-displayed mental illness. They do a great job of showing what not taking (needed) medication looks like. Crucially related is for what reasons people with mental illness act out, how these are oftentimes just exaggerated reactions of "normal" people. For example, making a loud ruckus very early in the morning wakes up the neighbors; it was an emotional response to a book. The same book may make others emotional, but usually not to that extent.
Silver Linings Playbook examines how people with mental illness affect those without it, and how they interact among themselves. One of the take-home messages is that true recovery involves accepting and promoting the health of others. We all have things to work on. A very genuine opportunity presents itself.
Included is the idea that no one is "normal". This is shown through excessive sports superstitions, shamelessly belittlement of family; ransacking a garage to the tune of death metal; and mass brawls. These things we attribute to the mentally ill, but no such person committed these acts. We're not that different…
Medication is oftentimes very important. For many, it keeps us out of the hospital; fine by me! The timeless reasons for not taking meds make appearances: they made me fat, they made me foggy, they made me someone who isn't me. That said (this won't give up more than the first five minutes of the movie), during a several-month hospital stay, they will know if you're not taking them. Even for a week-long stay, they will know.
The most valuable message: recovery starts with medication, it doesn't end with it. Medication allows one a framework to build upon. The construction begins when we work constructively on meaningful activities with other people. It's how we find that elusive happiness.
Face/Off (2h, 20m)

Face/Off is about many things. It's a very idea-rich movie, despite all the shootouts. I almost don't know where to begin with this.
One theme is the extent to which we can go in order to realize vengeance, and how vengeance promises only an illusion of closure. It's difficult to see through sheer hate that we may risk everything in pursuit of revenge. Mental illness, whether indirectly or directly, can cause us to be unnaturally angry. Some of us commit crimes in the name of vengeance, then we're locked up for life. I for one, do not want to spend decades in a horrible prison, regretting day after day my past decisions. The circumstances in this movie serve as a warning against criminal activity. There are mental illness blocks in prison, and they're very poorly tended to.
Another theme is about how the most insane terrorist, and the most devout law enforcement official, are not necessarily exclusive from one another. They can each do things better than their opposite. It takes being put in the shoes of someone just about completely opposite from you, in order to see things differently. Just because we don't like someone, even if it seems that they don't do anything right, chances are we could still learn a thing or two from them, if we open our eyes. Such as is oftentimes two people with mental illness interacting, and someone with mental illness talking to someone without one.
How about being taken for something that we couldn't be more different from? For instance: "You have schizophrenia, please don't go near my kids, and I've got the cops on speed-dial." In another review I go over how, especially when it comes to people who are battling a psychotic mental illness, they are much more scared of you, than you of them.
Apart from being busted breaking the law, how often do we regret something that happened in the past? How often do we think that it was our fault, or that we could have stopped it? At what point do we treat ourselves decently? Most people are hardest on themselves. When tragedy strikes, grief is normal. Depression can be thought of as grief that never leaves. It's not a weakness. We don't have to continue living in perpetual pain. The ending of Face/Off tells us how to gain closure. It's very poignant, as much as possible, a twist at the end that couldn't be more well-done.
Side Effects (1h, 46m)

Despite being very well done, this movie could be distressing to watch. If Silver Linings Playbook does a stellar job at recreating what mental illness looks like on the outside, Side Effects does so on the inside. There's the emptiness, out-of-focus outlook, discontinuity, and tears, along with persecution for an apparently unintentional act. It's something that many of us can relate to, to the extent that it might bring back negative memories.
There are a few fictitious aspects of the movie. Firstly, if one has tried committing suicide, and failed, after they're physically healthy, they will be put in the mental hygiene (psych) ward. As far as I'm aware, there are no exceptions. The hospital does not want to be sued for evaluating a suicidal person as okay, just so that they can get out and actually finish the dastardly deed.
Secondly, suicide that is not premeditated, is very common. The movie cites it as a reason to release someone from hospital care.
Thirdly, treatments by past doctors must be given in official documentation. Talking face-to-face about it, in generalities no less, does not suffice at all.
Finally, the capacity to feign the effects of barbiturates is highly unlikely, as they are a class of drugs very rarely prescribed
It may seem that there are more bad things about this movie than good. It's difficult to talk about without spoiling it. One thing is certain: the characters aren't necessarily thrown in the same light by the end, as in the beginning.
The plot seems fairly straightforward. There is an act that sets up something of an impasse, and which the viewer likely thinks is the climax. Grey area composed of fault on one side, and victimization on the other, comes up. The law is broken: at what point do we blame the inescapable, cold, heartless institutions that surround us, versus freedom of choice? This is what we thin we're dealing with. But there is more.
Sin City (2h, 27m)

I've seen this movie just about as much as necessary for it to be in my top five, but to still have fun watching it. It watches like a poetic, noir comic-book with a whole lot of mettle. I enjoy the inner commentary from the characters on screen, similar to that of which many people with mental illness have. It adds an aspect of camaraderie. Sin City may often seem as hopeless to healthy viewers, as the world does for those who have a mental illness.
It's not for the faint of heart. It's very rough, and at times, sadistic. So if scared easily, and averse to blood and the like, it may be best to leave this movie on the shelf.
Sin City is has several different stories to it. They tend to involve self-capable heroes trying to do the right thing in a world that tends to not include good things happening. And they don't always succeed; oftentimes, success comes as a significant price. So the audience is kept on the edge of their seat. An enduring theme in most of the stories is the cruelty of legal and religious figures, pitted against just, civilian vigilantes. In a screwed-up environment, we can still be ethical. Persistence against injustice, even if it's one person against super powerful people, can make a difference. We do the right thing because it satisfies us.
There's only one brief, aside mention of mental illness in this movie; it's clearly not the right way to approach it, one of many problems in the world of Sin City.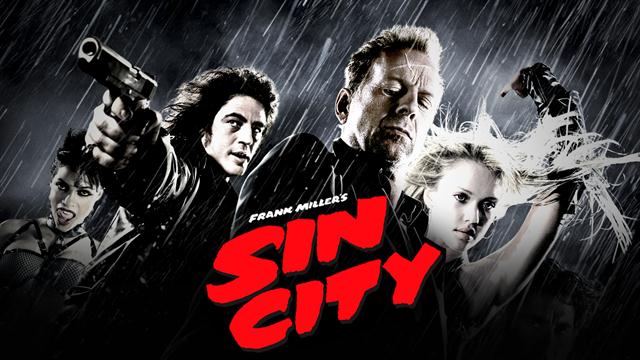 The Place Beyond the Pines (2h, 20m)

This movie is composed of three different, interconnected stories. There are three different protagonists of very different places in society, and three different themes; the greatest similarity between them, is that they are all undergoing great inner struggles. It's easy for people who are battling a mental illness to think that only they can suffer, that they're the only one who's going through a phase of grief.
The Place Beyond the Pines a realist movie. No matter what job, connections, or otherwise achievement one has in society, happiness can be a very hard thing to find. We're pushed by the forces around us to adopt certain attitudes, and take great risks, in order to feel happy, to gain acceptance from those whom we value. We do this for our family, our friends (or those whom pose as friends), our career, our peace-of-mind. Hence, the commonality of grey-area labeling in this section. We do very risky things, which includes, but is not limited to, stealing, robbing, lying, abusing, and threatening to murder. Perhaps this is analogous to people with mental illness using recreational drugs. Society is so inherently biased against them, that they will do drastic things in order to feel like they are valued.
An enduring theme is the inability to serve perfect justice, to know what the best thing to do is. No matter what the situation, in the end, the outcome will not be fair for all parties. Unfortunately, those whom are higher on the socioeconomic ladder, tend to get off easier.
12 Years a Slave (2h, 14m)

One of the main points in this movie, communicated early on, is that racism, slavery, exploitation, and the like, isn't always explicit. In this sense, it's much more sinister: someone doing an excellent job at pretending that they're your ally, while secretly plotting against you in a horrific manner. Another is that in the North, simply because slavery wasn't heavily relied upon for the economy, doesn't mean racism was gone.
Arguably the most realistic, in terms of tone and circumstance, depiction of slavery in the United States (which ended quite late, relative to European countries). It's been a while since I saw it, but i do remember a particular scene on the level of which I've never com across before: Ejiofor's character undergoes a sort of torture, lasting several hours, that viscerally put me in his position, and it was just so painful…This movie isn't for the faint of heart.
So then, why do I advocate it? Well, I think that our lives are several magnitudes above those of caught in the middle of the Transatlantic Slave Trade. We sometimes don't know how good we have it, especially we few lucky ones living in industrialized society, in countries that are much more enlightened relative to both the past, and many other countries around the world. It's quite an irony that mental illness pervades the stable, the safe, the literate and educated. This movie will show us how good we have it, and it does a great job at relating how cruel the people of America once were black people.
The Lookout (1h, 39m)

This one is about irrational shame, inescapable nostalgia, and tragedy. We live in a world of billions of other people. Just about all of us mingle with other humans, and have a place in the public world. When we become the victim, or perpetrator, of an accident or crime, we're almost never satisfied with the aftermath.
When I was 18, someone sat down with me and told me I had schizophrenia. It was unbelievable. Maybe I did back then, and don't now. Maybe my symptoms are in remission. Maybe I never had it. But the truth is that the government gives me great and insurance and a stipend. I can't help myself hating myself at times, because I smoked tons of weed, which I frequently bought with money that wasn't mine. This is how I can relate to Levitt's character. We both had a lot going for us. Then something happened. We got cocky, lazy, stupid, and in the end, we paid for it.
But we can try. We can continue to put forth 110%. It's never too late to do the right thing, never too late to get motivated and become the best we can be, by ethical means.
A Dangerous Method (1h, 39m)

Here's a well-done movie on Carl Jung and Sigmund Freud, played by Michael Fassbender and Viggo Mortenson, respectively, and one of their patients (Knightly).
Apparently it is true that, as the movie states, when Jung and Freud first met, they talked for 13 hours straight. So, yes, this is more of a scholarly movie.
It's really about two philosophers, not psychologists. Philosophers create new subjects, theories, and such. In this case, the creation was psychology. Another reason why Jung and Freud can better be termed philosophers, is because despite initially being in agreement, they ultimately had such differing views of the way things worked, and those differing ways reverberated across their whole identities. For instance, Freud has Jung over for dinner, during which Freud tells his daughter that it's okay to talk about subjects related to sexuality at their family dinner table; this is an ethical belief. As for Jung, there is a scene during which the two are talking, and Jung seems to have picked up some sort of pattern in the way that the room is creaking, which he attributes to a supernatural cause. So we're not just talking about how minds work. We're talking about a broad range of topics, including, but not limited to, philosophy of morality and theology. It's appreciated that the movie attempts to be neutral. That is to say, it both spends time on the facets of Freud and Jung's ideas that are considered true in the present, and those of which few professionals of today believe in.
I didn't consider Knightley's acting to be very good at all, but there's another problem related to the character she portrays. This is someone who's really, noticeably ill. Someone perhaps in an advanced stage of schizophrenia. It's hard to believe that she could recover so fully with "just" psychotherapy. However, it is true that the environment back then differs in leagues from the environment of today, perhaps resembling in some respects that of a poor country in the present, and some literature suggests that mental illness in third-world countries can be cured. So maybe it's possible that she could realistically recover so completely without medication, but I'm skeptical.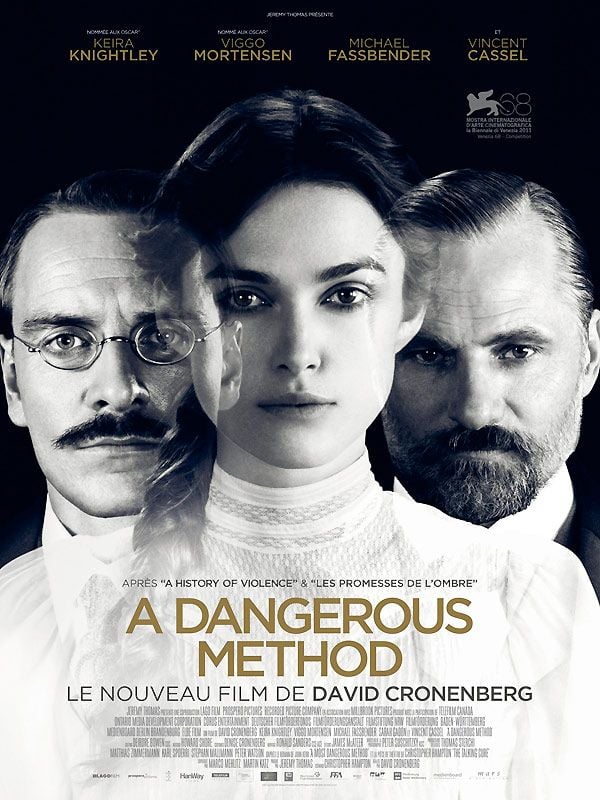 Funny People (2h, 33m)

Here's an interesting movie involving (arguably) the most prominent movie comedian of the 1990's (Sandler), and Rogan, who's brought humor to comedies since 2005 with The 40-Year Old Virgin, but who really took off with Knocked up in 2007. And both Sandler and Rogan play comedians. Sandler as the rich, established George Simmons. Rogan as the aspiring Ira Weiner. Taken under Simmons' wing, Ira gets a chance at flirting with, and occasionally participating in, stardom. He also learns the all-too-true idea that even comedians can be unhappy, sometimes downright miserable.
When one has more money than they know what to do with, sports cars that they've never even driven, no real confidants, loneliness can set in quite hard. Even though Ira is young, his immaturity does not exceed the cold outlook that Simmons sometimes implies in his dialogue. The reality is, both Simmons and Weiner can learn from each other. They are equals, as people.
We also see Jonah Hill and Jason Schwartzman as Ira's roommates and fellow comedians searching for stardom
Jesus' Son (1h, 49m)

This one is definitely atypical. The main character has such a profoundly clear and honest persona throughout the movie, which includes such escapades as IV drug addiction. It's hard to say anything else about it. By the end the audience is simply struck by how the protagonist gets thrown into the middle of a dangerous, scheming, subculture, yet keeps his cool. It's not even him trying to be cool; perhaps he's simply naive or mentally challenged, but even if that's the case, he still comes out with that grin.
It's a testament to us all: despite what surrounds us, we don't have to throw away our virtue. It can be horribly difficult though. When I lived at a Group Home, the majority of the other residents were quite obese, and spent almost all of their day (not including appointments) eating unhealthful food and watching game shows on television. I knew after a short while that I would have to build a  healthy lifestyle without much support from the other tenants. Though I certainly wasn't as happy-go-lucky about the situation as our friend (the protagonist), I did it, and didn't get sucked into the demotivated style of my cohorts.
Crazy Stupid Love (2h, 20m)

Everyone needs someone else to share their intimacies with, right? Well, it at least makes us happier humans. That's what this movie is about.
Steve Carell plays that guy who's never been with many women, who needs an "expert in the field" to show him how its done. Enter: Ryan Gosling. This video offers convincing optimism that even the guy who is just about totally clueless and plain, can transform into a player. Yes, yes they can. And its not that hard.
For those of us men who find it difficult to be with women, or who automatically think they were born lacking the skills to pick up women, this could be a very helpful video. On the other hand, this movie also remarks that doing so too frequently could be unhealthy, immoral, and jaded.
There is a catch, though, when being with the opposite sex. Unlike the lustful but relatively grounded intention to, and process of, a hook-up, love can't promise the same boundaries. They're two different animals, so-to-speak. One is about externalities, the other, about what's inside. Enter the title: Crazy Stupid Love. True love involves an unbreakable  connection. Others do a poor job of destroying, or otherwise altering, that connection, even if the lovers face horrible repercussions.
A Beautiful Mind (2h, 20m)

Russell Crowe does a great job at portraying John Nash, the genius mathematician plagued with burden of schizophrenia. There are a few really great quotes in this movie. Here's one: 

"Imagine if you had suddenly learned that the people, the places, the moments most important to you, were not gone, not dead, but worse, have never been. What kind of hell would that be?" 

That is of course describing a particular severe case of schizophrenia, wherein at times, one's whole surrounding world is not real. A Beautiful Mind gives those without schizophrenia, and those with a less severe psychosis, a peak into what it's like for the victim, by not pointing out some parts/scenes of the movie as imaginations created by the illness, until a decent amount of time after they've occurred.

The movie also shows the burden that schizophrenia can have on their loved ones.

Nash died in 2015 along with his wife in a car crash – strangely anticlimactic. He was first treated in 1959, when people with mental illness were heavily stigmatized. Today, schizophrenia carries a sizable stigma. Kids don't learn in school that schizophrenics are probably more scared of other people, than the fear that other people feel towards them. The point is that Nash pursued in the study of mathematics in an atmosphere heavily against him. There are scenes during which people make fun of Nash (Crowe) for his illness.
It is important to note that Nash stopped taking his medication after a certain point, and got by without it
Sources: Ben Komor