This section is a mixture of worldviews and religions that I consider to be important.
Let's go over a few viewpoints on the divine, first
Below:
Theism

The divine as separate from what it created
Monotheistic beliefs
Polytheistic beliefs

Pantheism

Everything in existence is God
Buddhism

Panentheism
Process-Relational Panentheism

Sourced from philosophers, not theologians
We see another, more inclusive infographic as well, which includes some other ideas of the divine
Deism

God created the world, then walked away
God has no active role in the world
The Founding Fathers of America were mostly Deists

Atheism

There is no God
Theologians might counter that these people abide by Scientism
Regardless, this is a secular religious belief

It would not exist without extant beliefs in the divine
On to Soft Polytheism!
It seems very similar to animism, which itself has soft and hard versions
Soft Animism

Some apparently natural phenomena in the world are controlled by divine minds

Hard Animism

Everything in nature has a mind
This includes rocks, trees, glaciers, mountains, and so on
The three main Chinese belief systems
We have already gone through Confucianism.

Legalism

This belief system is somewhat self-explanatory
It holds that people are inherently bad
People are said to always act selfishly
No one is naturally ethical
People must be forced to act well
The benefit of the state was of paramount concern
People who wanted to kill were directed to join the army
There were laws dictating almost all behavior

How to talk to social superiors
How to deal with women
How to act to children
How to treat servants

Penalties for breaking any law were very harsh

Large monetary fines
Forced service in the army
Years in servitude to improving lublic infrastructure

All other philosophies were explicitly banned

They were branded as dangerous
Confucianism was heavily acted against

Non-legalist texts were burned

Han Feizi developed the belief system, largely from
Shang Yang
Britannica states that it was popular in the time-span from 475 BCE to 221 BCE
This may seem to be an utterly evil belief system, yet in context, during a time of civil war and anarchy, it may be understood as a reaction to what was going on in China at the time

Rampant lawlessness
200 years of civil war

It became the official national belief system during the Qin Dynasty (221 – 206 BCE)

The people of China were very unhappy with it
Daoism/Taoism

"Dao" means "a way" or "a path"

This way is understood as ethical in Confucianism
But in Daoism, it is more so the "Way of Nature"

Nature can teach us the most valuable lessons
People are a microcosm in the whole world of Nature

The best actions are those that flow with the Way of Nature
Ideas or standards from humans ultimately cause unnatural and aggressive actions
Violence is the most ignorant manner of acting, which is opposite the flow of Nature

How must people act?

By wu-wei, which is known as "non-action"
According to Nature
Without undo desire, as it leads to violence in one form or another
The analogy of the uncarved block

Entirely natural
Entirely whole
Entirely simple

Artificial and unnecessary includes building on society and abiding by socially constructed and institutionalized norms
Societal morality is human, which is far inferior to The Way of Nature overall
Acting in accord with Dao includes spontaneity
Ritual is man-made and unnatural, even arrogant

Instead, work on te, which is positive energy derived from Nature Taoism/Daoism

Language is untrustworthy

Logic
Rhetoric overall

Logos, pathos, and ethos (logic, emotion, character)

Instead, tune into the processes of Nature

Stresses understanding the natural underpinnings of the world
Similarly, nature is understood as amazing and beautiful
Speaks of how to live a long, balanced life
Meditation is major manner of becoming enlightened
Similarly to Legalism and Confucianism, is this philosophy of religion?
The founder was a man named Lao-Tzu, "the elder"

His major work was Daodejing
Yet this man may have actually been several people

A man named Zhuangzi was another authority in Daoism

A book with his name was published. It is considered an amazing text 
Romanticism

There is a stress to return to nature
People can be happy in natural habitats
It stands against societal order
Romanticism was partly a reaction to The Enlightenment

Major scientific progress
A lot of progressive political literature
Large progress in civilization in a relatively short period of time
Modern ideas and thought was generated
Many, many geniuses

Focused on the individual, not on building society

Individual sensory experiences
Celebration of humans in all their imperfections in nature
The imagination of the individual
Emotion and enlightenment are of great value

Emotion over logic as important

Transcendental and great sensory experiences
Spirituality over rules and law

Reverence for folklore and cultural underpinnings
Asserted that materialism was unnatural and corrupting
Nature as amazingly beautiful
Value of "the exotic, the remote, the mysterious, the weird, the occult, the monstrous, the diseased, and even the satanic".
Jean-Jacques Rousseau was the main proprietor of this philosophy
It was popular from the late 1700's to the mid 1800's
Platonism

Plato is a household name
Was born as a noble: Aristocles
Plato was taught by Socrates, and taught Aristotle
Plato wrote much of the philosophy of Socrates, as Socrates never published his own works
His school was called The Academy
This belief system has many similarities to Christianity, as does Confucianism

"Platonism was considered authoritative in the Middle Ages, and many Platonic notions are now permanent elements of Latin Christianity, as well as both Eastern and Western mysticism."

His major work is Republic

Within, he advocates rule of society by a philosopher-king

His analogy of the cave
In being virtuous, one attains status of the ultimate good

Eudaimonism is an ethical tenet that holds well-being as good in itself

This bears resemblance to Kant's Practical Imperative

Increasing the well-being of people is an end in itself

The soul is composed of three parts, each of which must be guided by its own virtue

These virtues must be overseen by justice
Moderation and self-control are highly stressed
1. Reason
2. Spirit
3. Appetite

Theory of forms
When people act ethically, they touch an aspect of the divine
All knowledge is innate, or, known without any experience

Learning is when one finds a piece of knowledge within themselves
Perfect goodness is the foundation for all other knowledge
All knowledge can be found if a group of smart people talk among themselves for a long enough time

This is through the Socratic method
It bears resemblance to Hegel's Dialectic

Thesis, then Antithesis, then Synthesis (which becomes the new Thesis), and so on

Plotinus, a later Platonist philosopher, wrote of Neo-Platonism.
Aristotelianism

Aristotle's philosophical beliefs
Deviation from those of his teacher: Plato
Opened a school called The Lyceum
Wrote of many topics

Examples: logic, ethics, biology, political science, astronomy, metaphysics

Believed in Teleology

Everything has a design and purpose

His logic dominated philosophy until the 1800's

Deduction and the Syllogism: one major truth makes all individual instances apply to that truth

Taught that intellectualism leads to great happiness
He wrote about gravity
Aristotle, continued…

Nicomachean Ethics named for his son, Neomachus, whom was slain in battle

Being ethical is practical
Being ethical lies in actually practicing ethics, not just learning about ethics
Virtue is substantiated by reason
Mankind is rational
The Golden Mean

Equidistant between polarities
Found in many, many other religions and belief systems

People have a natural proclivity for politics
The best life is one lived in a self-governed society with a set of individual freedoms

A constitution, or, set of rules and rights, exists for every person

Contains participation from citizens, aristocracy, and leadership

This political order lays the foundation for individual happiness

There are two phenomena in the world

Matter

Can be observed, sensed, and occur in quantity

Form

Abstract and can't be observed

Matter and Form can't be separated, and only occur together

Taught that everyone should endeavor to be the best that they can in their specific place in society

Example: a baker ought to make the best bread they can, a politician ought to represent the people to the highest extent, and the slave ought to be the most useful and valuable at their assigned duties
Aristotle didn't speak out against slavery as Epicurus did

His father was personal physician to the leader of Macedon
Aristotle ended up being the personal teacher of Alexander the Great
Stoicism

Influenced by the thought of Socrates and of the Cynics
Influenced the development of Christianity
Also influenced Rene Descartes and Baruch de Spinoza
Amazingly, has been drawn on in developing the current Cognitive Behavioral Therapy (CBT) therapy method
People are supposed to be strong
Ethical actions lead to happiness

More so, they are necessary to be happy

An everyday guide to acting based on meta-physics and science
The goal is a tranquil mind-state
Knowledge to be discovered should aim to a moral application
Reason leads to value
The world is inherently virtuous
The world is material, but it can be broken down as far as righteousness and otherwise virtue, which is the building block in nature

Humans should aim to conform to this idea of what nature is

People should be active in society

Do their duties
Act in a just manner
Neither showing mercy nor pity
But should embrace brotherhood

The world is one whole
All queries should aim to produce moral effects
There is loyalty towards one's society
Service to society is valued
Founded by Zeno of Citium in the 3rd century BCE
This belief system originated in Ancient GreeceFound a following later, during the reign of the Roman Empire

Marcus Aurelius, emperor during the Golden Age of Rome (the Pax Romana), was a prominent stoic

Published material not considered very insightful
His personal diary, though, was published to wide acclaim
A work that I recommend after The Analects of Confucius, his remarkable book is called Meditations
Aurelius lamented the killing of people that he had to commit during this period
Meditations betrays a thoughtful, insightful, and informed persona
Aurelius is somewhat of a mystic, similarly to Daoist, in remarking on the sublime aspects of Nature
He has a clearly perceptible, morally guided ethical code, despite having perhaps the greatest power the world had ever seen at the time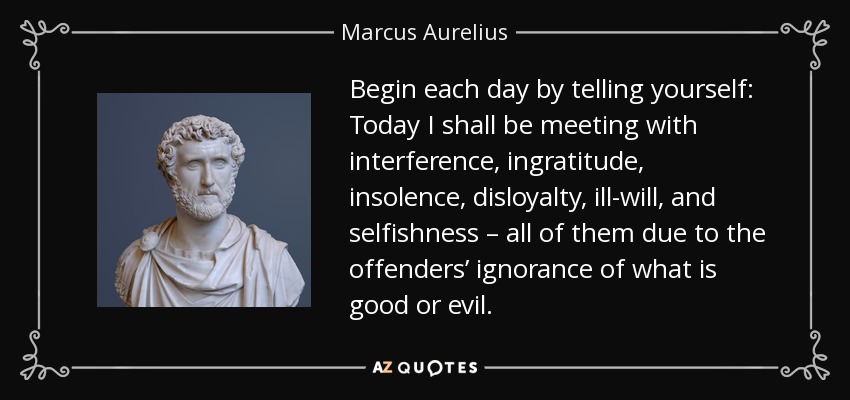 Mysticism

From the root word "mystery"
The world isn't something to be understood scientifically or otherwise materially
All three Abrahamic religions have mystic sects
Stresses finding peace and closure
Meditation is a widely-promoted action
Finding inner contentment, a balance in life, is better than serving as a cog in the machine of society
Stresses sensory, or, phenomenal, experiences

Altered states of consciousness
Absorbing the beauty of nature
Perhaps involving a direct feeling of confrontation with divinity
Two kinds of mystical experience

Wide

A super-sensory experience during which realities of existence are revealed through sublime experience such that normal sense can't engulf

Narrow

A particular kind of wide mystical experience
A super-sensory experience during which unitive aspects of existence are revealed, which normal sensory experience can't fathom
Everything becomes one whole

Extrovertive and introvertive mystic experiences

Extrovertive

Content is perceived outside of self
Sudden experience of confornting the divine in one's setting

Introvertive

The divine accessed by not using one's senses
God experienced through a feeling of "nothingness"

Dualistic and Monistic mystical experience

Dualistic

There is the experiencer and the divine existing separately

Monistic

Everything is perceived as a whole
The highest form of narrow mystic experience

Theurgic mysticism involves an attempt to create a mystical experience, as opposed to a spontaneous mystical experiences

Two other forms of mysticism, which not need be exclusive

Kataphatic mysticism

Positives are used to describe the divine

Apophatic mysticism

One can only describe what the divine is not (negatives)

Understands that reality can't be expressed in a formal manner
These experiences are paradoxical

Usually contrary to expectation
Language to describe it may sound ridiculous

Perrenialism and construtivism

Perrenialism

Across societies and cultures across the world, mystical experiences are similar to almost exactly alike

Construtivism

Soft version: mystical experience depends on some concepts inculcated by one's culture
Hard version: One's culture is entirely at play in mystical experience

Pure conscious events

All knowledge and sensory experience temporary leaves during mystical experiences
Critics against pure conscious events

The experience of the divine is knowledge and sensory experience itself, we may just not remember it as such
Content doesn't empty out, the focus is just completely on the divine
We may just be unconscious during these events

Written about profusely by the famous psychologist William James
Hedonism

From the ancient Greek word for pleasure
The word in laymen's terms means something different than in philosophical terms

Society understands the definition to be something along the lines of "focusing on increasing one's pleasure above all"

All hedonists hold that, in totality, pleasure is good, and that pain is bad
Pleasure=valuable
Pain=non-valuable
Psychological and motivational hedonsim

We are motivated just by pleasure and pain
This is in exclusivity

Ethical or evaluative hedonism

Only pleasure is of value, and only pain does not have value
We have a moral obligation to maximize pleasure and minimize pain
The ancient Greek Epicurus was a major ethical hedonist

His school, The Garden, was open to everyone as equals, including slaves and women
The Tetrapharmakon!

1. The gods pose no harm

Any perfect being would have no negative feelings or actions, including exacting vengeance on people

2. Have no fear of death

When you are present, death is not
When death is present, you are not

3. What is evil, is endurable

It passes with time
There is no reason to focus on it

4. What is good is easy to come by

Static pleasures

Just enough to get by
No spikes in pleasure
Thus, achieve ataraxia: calmness untroubled by mental or emotional disquiet"

Kinetic pleasures are to be avoided

Large spikes in pleasure
Will lead to pain in the same degree
Can never sate the individual
Artifical, interrupting true happiness

Drunkeness
Partying
Highly sugared foods
Exhilarating experiences

Even to his dying day, suffering from a large kidney stone, Epicurus wrote a happy letter to one of his friends

Lucretius, a later Roman philosopher, was the second main Epicurean philosopher

His work, On Nature, can be had for cheap

Many contributors!

Plato
Aristotle
Epicurus
Saint Thomas Aquinas
David Hume
John Stuart Mill
Friedrich Nietzsche
Thomas Moore
Cynicism

Popularly known as thinking that the world is evil and that there is never any pure good and morality
Total opposition to advanced society
Ethically speaking, live life in accord with nature
Live free, self-sufficiently, and with reason
Socializing with others sets one up to act against nature
Societal conventions are understood as absurd
Living impoverished is actually preferred, embracing hardship

Thus one can ridicule the manner by which most in society live

Allegiance is to the universe, not one's city-state

This may not seem so strange, but citizenship to one's city-state in the Hellenistic time period was thought of as invaluable
Abide by cosmopolitanism: the idea that all human beings, regardless of their political affiliation, are (or can and should be) citizens in a single community

All are thus made more equal
Can live by nature, not by rules of government

Widely propagated by the Greek Diogenes of Sinope

Lived in an empty wine barrel
Mimicked the dog

Ate raw meat
Urinated and defecated in public
Lived in an empty wine barrel

Visited by Alexander the Great

Told that he could have any one wish
Diogenes told him to get out of his sunlight

Once, widely cheered in front of an audience

Promptly squated down to defecate

When asked what he would wish be done with his body after he died, he answered: throw me off the city walls

When asked why, he answered: I couldn't care, I'd be dead!

Influenced the stoics, whom came later than them
Skepticism

A notion appearing with prominence during The Enlightenment

Michel de Montaigne, the famous French skeptic philosopher

Wrote a book of short essays simply called Essays

It was not categorized, published in the chronology of when it was written
The book title inaugurated the word "essay" into everyday syntax
Of a few pages to tens of pages, they go over various topics and beleifs
Much of the time, ancient Greek and Roman stories, ideas, and prominent people were taken into account
He analyzes many quotes
His essays don't usually follow a concrete path
He often goes off on tangents, muses, and otherwise off-topic discussions

His opinions are expressed, oftentimes critique
There was a fair amount of negativity expressed
His topics of questioning were groundbreaking
Intellectualism and informality met with his works
Rejected common beliefs that were general and abstract in search for truth
Foreign norms an be imposed on people without consent or logic
Imagery of the front room and the back room

Front room faces the street (and society), involving interaction with other people
Back room is one's self in privacy, affirming existence and reflecting on life

Learning from other is important

Travel around
Read history books
Converse with friendly people

It is necessary to have friends!

Love leads to emotional slavery and inhibits freedom

Montaigne may be thought of as a misogynist, one interpretation of his words

Thought that the inhabitants of the "New World" were superior to Western Europeans, the latter dubbed "barbarians"

Was a cultural relativist
Thought those of the "New World" lived in-line with nature and dignity

One should be involved with public service, but not imposing on the freedom of anyone
Concrete experience is of value over abstractions
Intellectual ans social conversation is important, too

Similarly, judge things independently, without being told that something is or isn't

His ideas were not taken from other thinkers

Tolerance
Accepting oneself
Being honest and frank

Accepting oneself in all one's strengths, limitations, and comprehensiveness, is of utmost importance

He lived in the 16th century CE, early on in The Enlightenment

Something must be proven before believed
Something must stand up to scrutiny
Transcendentalism

This philosophy is not transcendental idealism (an idea of existence proposed by Immanuel Kant).
Founded in the United States!
Stress: the unspeakable beauty of nature
People have knowledge that supersedes the senses

From creativity and bar intuition

Every person has their own truths
Adherents aren't religious beliefs, but an understanding of existence
Spending several hours in experience of the beauty of a pond
Women deserve equality
Spoke harshly against organized religion, social norms, government, and industrialization
Held true that humans could reach supremely high potential
Imagination over reason
Creativity over theorizing
Action over thought
Nathaniel Hawthorne
Henry David Thoreau

Admired his friend Emerson
Described as a bit strange, fairly gentle, and pretty stubborn
Built a hut to live in next to Walden Pond

Lived self-sufficiently
Asserted that nature is uniting
Spoke against accruing wealth and abiding by social rules
Was an early individualist
Had a marked humanistic bent

Humanism holds that people are enough to sustain, and ultimately save, themselves, absent of a divinity

"all good things are wild and free"

Perhaps the first to practice civil disobedience

Influenced Gandhi
Influenced Dr. Martin Luther King, jr.

Didn't pay his poll tax

Ostensibly, because he didn't want war with Mexico

Ralph Waldo Emerson

Wrote a book urging America to not try to emulate Western Europe, but to proceed independently
People are good by nature
There is no limit to what any person can accomplish
Contemplate nature and art to answer persistent and major life questions
Shintoism

Japanese
Can also be thought of as cultural manner, in addition to as a religion
Interestingly: no founder, no sacred texts, no involved belief system

It doesn't call for a certain way of living
It doesn't explicitly state a manner of how things function
The focus is on communicating with the kami

Means "the way of the gods"At least as ancient as 1000 BCE

But has at least five million followers presently

Spirits, or, kami, imbibe nature with life

Both biotic (living organisms) and abiotic (non-living) natural features
The most important is the sun goddess Amaterasu

Beleived to be the ancestor of Japanese emperors
A special shrine for her is in Ise, Japan

The most important shrine

Inari is another important kami

Produces rice
Rice is heavily used in Japan

Izanami (female) and Izanagi (male) are kami that created the world

They birthed many other kami
Izanami exemplifies yin
Izanagi exemplifies yang
Yin and Yang are the two overall natural forces

They balance each other out
In fact, each kami has a polar opposite to balance things

Priests can be of either gender
Worship at shrines, usually found in a beautiful natural setting

Some people have small shrines in their houses
These shrines have an archway, called a torii

The torii is thought to separate the world of the shrine from the world otherwise

Every year, each shrine has a celebration (Matsuri)

Kami are honored
People feast and drink
Rituals
Performances
Sumo wrestling
Lots of activity
Sounds, colors, and brightness

Only priests can enter the "inner hall" of the shrine
Before entering the prayer hall

Mouths rinsed
Hands washed

In the prayer hall

Kami are summoned with a bell after offering rice or currency
Then worshipers bow twice and clap twice in welcome, then bows one more time

People can be both Shinto and Buddhist
Japan is understood as the one and only divine land
Japan is populated by gods
Japanese people directly descend from gods
As follows, Japanese are thought of as the most superior humans
Was used with a fascist connotation during World War I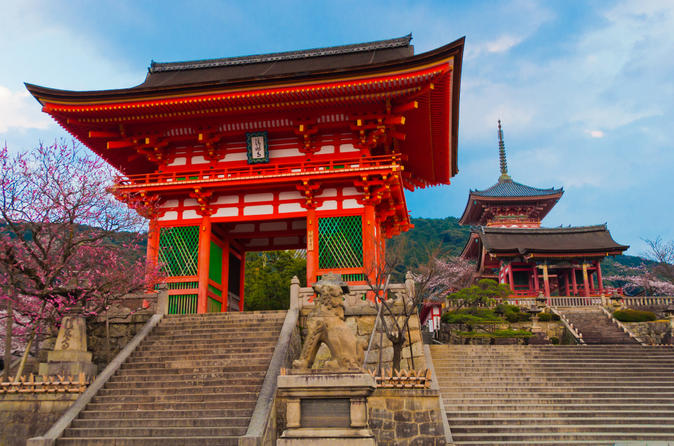 Capitalism/Socialism/Communism

Unilinealism: society proceeds from a primitive state to an enlightened state

Communism to Socialism to Capitalism
Or, Capitalism to Socialism to Communism

Capitalism

Inspired by lassaiz-faire, French for "hands-off"
In anthropological terms: the government does not intervene in the private sector to protect the buyer
More realistically: government does little in intervening into the private sector
The word "liberty" has, fairly recently, been used to justify economic variables without government stepping in

These people are usually deemed "neoliberals" or "neoconservatives"

The most Capitalistic modern society was in Chile

Everything was privatized
The country collapsed into itself
The experiment was a failure

The United States has a much more Capitalistic government than Western and Northern European countries

Socialism

In anthropological terms: the government intervenes in private economic transactions to protect the buyer

In this sense, save for the disastrous Chilean experiment, every modernized country is Socialist.

Still a word that carries a negative connotation in the United States
Much of Western and Northern Europe is Socialist
Such legislation includes social welfare

Public insurance
Unemployment benefits
Food stamps
Section 8 housing
Free rides to appointments
Sliding-scale public health institutions

Another, more directly economic idea in Socialism, is the creation of unions
Communism

More of a prophesy, or, guess of the future, than political idea
There are workers and bosses

The bosses control the money, therefore control the workers
The workers depend on their bosses for money
The workers can collectively set down their tools and overpower their bosses

People all come to the same conclusion to refuse to work unless conditions are more humane
Collective agreement is key
"From each according to his ability, to each according to his needs"
Karl Max and Friedrich Engels composed The Communist Manifesto in detailing the system, 1848
In reality, Communism, ironically, has become a cover image for fascist regimes
Sikhism

Based on the teachings of Guru Nanak and his nine disciples
Monotheistic

God is of no gender
God has no form
God can be accessed by every Sikh
God thinks everyone to be equal, in absolute terms
God decrees that people conduct their lives with honesty, integrity, morality, and in concert with their community
God is in everyone

Even in the most evil of people
This is understood to mean that all people can change for the better

Superstitions are without value
One can't know God in entirety, but can feel God while under the influence of loving and worshiping and concentrating on the divine

One's world and soul will help them become closer to God
The nature of God is in understanding God's divine order of existence

Materialism and too much self-indulgence obstruct one from the view of God
There are ways to find God externally

Observe creation
Understand that the universe exists because God willed it to
The Gurus have related what God is
Scripture teaches of God

The good life

Commit altruistic deeds

Gets rid of ego
Gets rid of pride

Don't be a slave to religion
Ordinary life does not move one away from God
Perhaps serve the community in the Gurdwara
It is necessary to care for those of ill health and little means 
Meditate on God
Three duties

Always keep God in mind
Live honestly and without exploiting people
Give to charity

Five vices

Lust
Greed
Pride
Anger
Materialism

There is a cycle of birth, life, death, and rebirth

Just as in Hinduism and Buddhism

Karma determines the qualities of one's next life

The ultimate ideal is to move out of the cycle, uniting with and knowing God entirely
Again, very similar to Hinduism and Buddhism

Center: know and contact God

Achieve mukti by persistent attention on God, as opposed to on self
Scripture and the teachings of Guru Nanak and his nine disciples tell how to best do this

Acting in a moral manner is greater than carrying out ritual
Always realize and keep God, emotionally and cognitively
Be honest with others
Be a hard worker in one's sector
Everyone is equal
Give to those of lesser means
Otherwise help other people out
Worship is in a Gurdwara
Guru Granth Sahib is the name of the Sikh scripture

It is said to be alive
If answers cannot be found within the text, decide as a community, keeping scripture in mind

First created in Punjab (India and Pakistan) in the 16th century
There are 20 million Sikhs in the world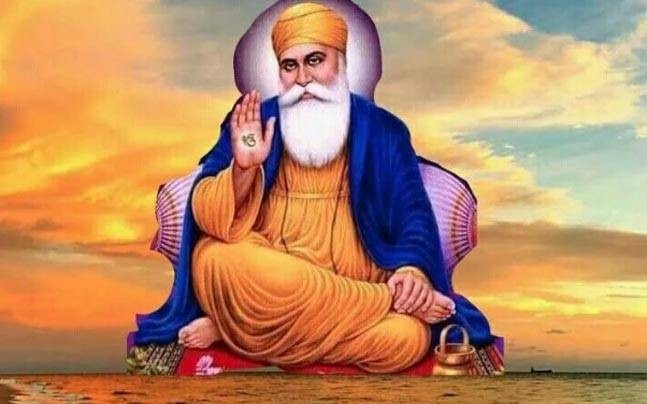 Sources: https://www.ancient.eu/Legalism/, https://slideplayer.com/slide/4443583/, https://www.iep.utm.edu/daoism/, http://afe.easia.columbia.edu/special/china_1000bce_daoism.htm, https://www.britannica.com/art/Romanticism, https://www.iep.utm.edu/stoicism/, https://www.britannica.com/topic/Stoicism, https://www.britannica.com/topic/mysticism, https://plato.stanford.edu/entries/mysticism/, https://plato.stanford.edu/entries/hedonism/, https://www.iep.utm.edu/hedonism/, https://www.iep.utm.edu/cynics/, https://www.britannica.com/biography/Michel-de-Montaigne, http://www.ushistory.org/us/26f.asp, https://www.uri.org/kids/world-religions/shintoism, https://www.gotquestions.org/Shintoism.html, https://worldreligions.wordpress.ncsu.edu/shintoism/, http://www.bbc.co.uk/religion/religions/sikhism/ataglance/glance.shtml, https://slideplayer.com/slide/12925467/, https://steemit.com/longarticle/@aureliusdares/marcus-aurelius-the-stoic-way-mastering-cynism-with-nerves-of-steel, http://colette-windflowers.blogspot.com/2016/12/diogenes-his-barrel-and-his-brutal.html, https://www.indiatoday.in/lifestyle/culture/story/guru-nanak-jayanti-gurpurab-quotes-festival-birthday-sikhs-india-lifest-1075776-2017-11-04, Professor David Galezo, https://www.philosophybasics.com/movements_platonism.html, https://www.philosophybasics.com/branch_eudaimonism.html, https://www.philosophybasics.com/movements_aristotelianism.html, http://www.newworldencyclopedia.org/entry/Aristotelianism