I'm glad! If I may offer my experience…
I started lifting weights in October of 2015. I had never thought much about lifting beforehand. I asked a few people – my father, a family friend, a few others – about their experience. I can't say quite what inspired me. But, I resolved to start a regular exercise routine.
So, I purchased a notebook, an app on different lifting techniques, borrowed a book on lifting, and was able to borrow two 15lb weights.
I still remember my first day exercising. I resolved to day as much as I could, with a decent amount of comfort, because I knew that if I did too much work, I would drop the process entirely. That first day, I did two well-formed pushups, 38 well-formed crunches, and a ten-minute walk, no weights yet. It was enough so that I got something out of the process, but that I still had the will to exercise the day after.
I soon transitioned to a bit of lifting. It started with maybe one set of curls, some push-ups, some crunches, jumping jacks, and a decent walk. I wrote down everything I did – every exercise, every rep, every set.
Today, I still have that notebook. I still write in it daily. I give myself a day off once every three or so weeks, on average. I started out not really knowing what I was doing. Today, however, after more than a year, I have specified everything down to the single rep, and am in the process of slowly raising weight on my biceps (and company) and muscles governing the deltoids.
If you have any questions about lifting, or just exercise, please feel free to message! It's more about exercising, after all, than being able to lift a certain amount of something or the other.
Physical exercise intervention in depressive disorders: Meta-analysis and systematic review
Also, in order to truly sculpt a muscled look, it will take a while. It takes months for the body to "get the message" that it's supposed to be building muscle. I would say that it takes a good two months to see any results, six months to get remarks, and a good year before starting to look like someone that others would compliment you for. Finally, supplements really only are important if one's a professional bodybuilder or a professional sports player. Otherwise, eating healthfully, staying hydrated, and being productive overall, will suffice.
From Arnold to you: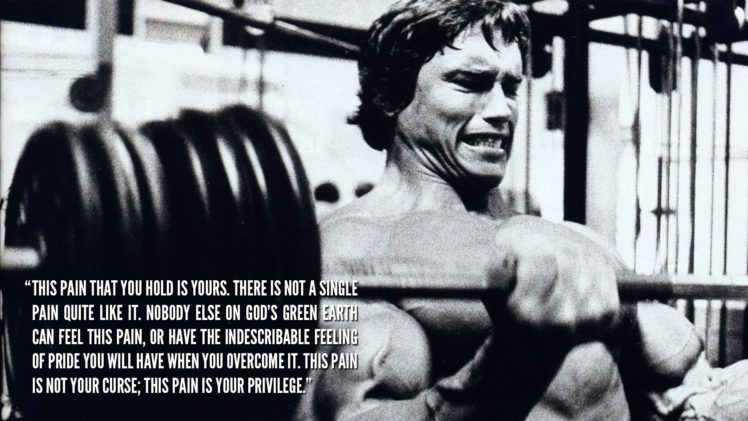 My routines, built up especially for me and according to me, are very solid. I have three different routines, targeting a specific set of muscles, in turn:
Biceps, brachialis, brachioradialis

four sets of curls

30lb weights
15-20 reps

four sets of hammer curls

30lb weights
15-20 reps

four sets of barbell curls

~70 lbs
15-20 reps

Anterior deltoid, posterior deltoid, pectorals, triceps, trapezius

two sets of tricpes extensions

30 lbs
up to 12 reps

two sets of Arnold presses

30 lbs
up to 12 reps

two set of diamond pushups

my weight (too much!)
up to 12 reps

two set of dumbbell pushups

my weight (again, sadly burgeoning)
up to 12 reps

two sets frontal raises

30 lbs
40 reps

two sets shrugs

30lbs
150 reps

obliques, abdominal, trapezius, general leg muscles

two sets flutter kicks

my weight
80 reps

two sets every-other heel touch

my weight
80 reps

two sets pulse-up

my weight
80 reps

two sets v-up

my weight
80 reps

two sets dumbbell side raise

my weight and 30lbs
100 lbs

three sets rollback

my weight
my weight